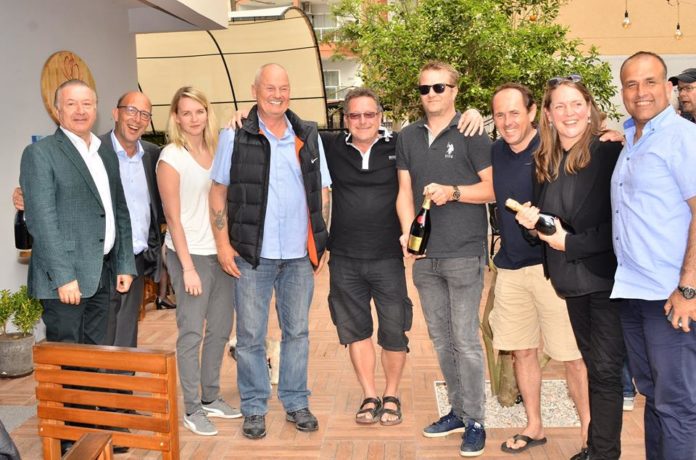 It all started with a magazine in Danish(now also in english), but now it has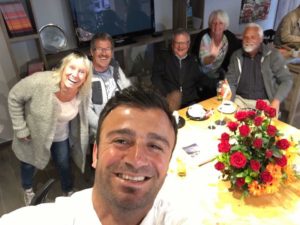 become a big and different kind of meeting place for Scandinavians, namely Dolphin Family in Oba. In 2011 the first Alt om Alanya (All about Alanya) magazine was on the street. At the same time the website and the Facebook page started which, now that we are entering the 7th season, has over 250,000 unique visits a year at www.altomalanya.dk and more than 24,000 permanent followers on Facebook. So we can safely say that Alt om Alanya has become a virtual meeting place for the many people who love Alanya and love to spend their holidays on the Turkish Riviera. From 1st April our activities were extended to also becoming a physical meeting place at the best location only approx. 50 metres from the beach in Oba. Close to where the Monday market in Oba ends and where the Thursday market in Tosmur starts.
With Dolphin Hotel we now have a fine hotel with 5 star comfort and service. There are 52 newly renovated rooms and all of 154 beds, we will have an à la carte restaurant, a concert garden with room for 300 guests and with events every Wednesday and Friday, and we also have the Alt om Alanya Café with delicious coffee, light meals and plenty of opportunities to get information and ideas for your holiday. If you bring your newspaper from the plane with you, we will gladly exchange it for a cup of fresh coffee, says Jan Ørum Vermø, who together with his wife Tinna is the Danish element in the partnership.
The new Turkish company is owned by Kamil Köseoglu and the Vermø family. Jan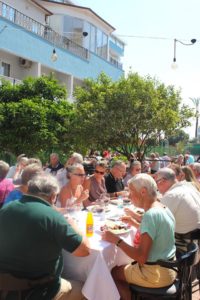 will be in charge of the day-to-day management, marketing, staff and concept. Tinna will manage the Danish sales and information office, so that guests will always be able to get in touch and get answers to their questions. Kamil Köseoglu is an experienced gentleman when it comes to running a hotel in Alanya. Together with his brother he owns and operates four other hotels with a total capacity of about 600 rooms and 1400 beds. The most well known are the 5 star Katya Hotel and the family Hotel Krizantem Hotel in Oba. Furthermore, Kamil is the Vice President of the Super League club Alanyspor.
Meeting point and lots of activities
Over the years Alt om Alanya has been involved in arranging many events, concerts, excursions, fun football, boat trips and other festive gatherings. This will still continue with the many good partners with whom we have built cooperative relationships over the years.
We want to create something new. Every Wednesday during the season, a concert with Danish and/or Scandinavian artists, every Friday, Turkish Night with shows, music and dancing, fun football on Thursdays during the children's school holidays, Dolphin Bicycle Club for those who like biking together, and other activities that can help promote a good ambience and togetherness among the many people who love being in Alanya. We will also organise theme stays at the hotel such as hiking, old boys football trips, training camps, cycling weeks as well as wellness and trips for dental treatment, says Jan Ørum Vermø.
Open all year round
The Dolphin Hotel will be open all year round. Accessibility and good communication are the keywords for this new venue.
We hope lots of people will hold their parties here, plan for seminars and the like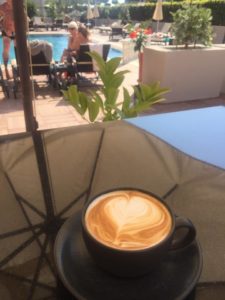 during the off season, and that we will be able to create a great setting, but also involve all of the amazing area in which the hotel is located. We have beautiful countryside, sunshine 300 days a year, opportunity for fitness and wellness – yes pretty much everything is possible in Alanya. These are some of the things we fell for 11 years ago and which we would really love to pass on to visitors to our hotel and meeting point in Oba, concludes Jan Ørum.
You can follow Dolphin Family on Facebook, Instagram and at www.dolphinfamily.dk
Box:
A typical week:
Monday: Get-together with traditional Danish pickled herring on rye bread from 11a.m to 1p.m
Tuesday: Excursion from the café
Wednesday: Concert in the garden with well-known artists
Thursday: Get-together with traditional Danish frikadeller (meat balls) from 11a.m to 1p.m
Friday: Turkish Night in the garden with entertainment and BBQ