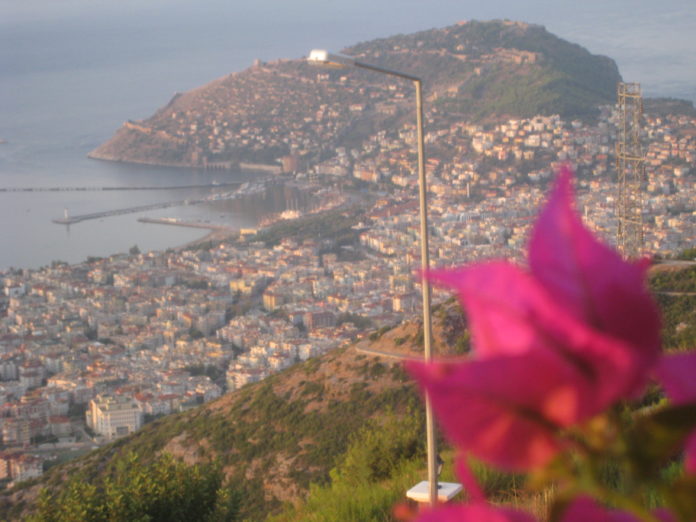 Airports:
The airport in Antalya is approximately 140 km away and the trip takes about 2 – 2½ hours by car.
The airport at Gazipasa is located 39 km east of Alanya town centre. A really good road has been built to the airport and it takes about 30 minutes to get there by car. The airport has been very successful and more and more planes are able to land there. You can often shorten your journey by 1½ hours by landing in Gazipasa rather than Antalya due to the shorter drive.
Bathing:
The sun is very hot, so remember sunscreen when heading to the beach. Respect the red flag when it is flying. There have been several drowning accidents in recent years due to people not taking the warnings seriously.
Remember to drink plenty of water. Preferably bottled water as the tap water contains different bacterial flora than you are used to in your home countries
Business:
The main industry is tourism, growing bananas and other fruit and vegetables.
The annual production is 740,022 kg bananas, 2,433,901 kg oranges, 8,491,248 kg tomatoes and 16,651,693 cucumbers.
Cemeteries:
Since 1990, 198 foreigners have been buried at the cemetery for foreigners in Alanya.
There are now only two plots left and therefore Alanya Municipality has donated a 2000 m2 piece of land for a new cemetery in Cikcilli for foreigners living in Alanya. The new cemetery has room for 500 burial plots.
The first foreigner was buried in Alanya about 40 years ago, but in 1990 the first cemetery for foreigners was provided. Unlike other countries where you have to pay for your burial plot, Alanya Municipality provides the burial plots free of charge for foreigners living in Alanya.
Christmas:
Every year in December a large Christmas Market is held by the harbour in Alanya.
Credit Card:
Most international credit cards are accepted and there are many ATMs in Alanya. You can also exchange cash at the small yellow exchange shops at PTT (the Post Office).
Currency:
Tyrk Lirasi (TL). A lira is approximately 0.25 Euros. You can bring your own country's currency or Euros. You can change money everywhere at reasonable rates. As a rule you will find the best rates at the Post Office PTT or banks. You can use credit cards at most places, but we recommend cash for daily use and visits to the Bazaar.
Dentist:
There are big savings to be made on dental treatment in Alanya – right up to 60 %.  The dentists work with state-of-the-art equipment, they are well-trained and many people have had positive experiences at the local dentist.
Disability:
The municipality of Alanya has done a lot to make the town more accessible for the disabled. There has to be toilets for the disabled at restaurants. Many of the high kerbs have been altered so they are now more accessible for wheelchairs. The traffic lights in the centre of town have special sounds for people with hearing disabilities and the local busses can carry passengers in wheelchairs.
Dolmus:
Dolmus is the name of the small mini busses that run primarily on the main roads of Alanya.  At the Otogar (Bus Station) you can find timetables – also to Dim Cay, Tepe, Bektas and other places. The price of a ticket is typically 2 TL
Doctor:
We recommend Doctor Asuman Caylar on Ataturk Street. www.asumancaylar.com. Tel.: +90-(242)51293 75 She speaks English and Norwegian.
Drinks
Water is cheap. Fizzy drinks, beer and wine cost about the same as in your home country. More and more good Turkish wines are becoming available, try buying Angora wines for example in Migros or Metro at approx. 15 TL a bottle.
Eating out:
A meal costs typically between 7 and 14 Euros. It is a little more expensive at the harbour and in the town centre. But if you visit the small side streets, you can enjoy amazing food at very cheap prices. 2 adults and 2 children can easily get a great meal for about 25 Euros, all inclusive.
Electricity:
The voltage used is 220. It is a good idea to bring an adapter for electrical appliances with a 3-pin connector as sockets are often only 2-pin. These are also available at Metro and the local DIY centres.
Emergencies:
The Danish General Consulate in Istanbul. +90-(212)35919 00. E-Mail: istghl@um.dk
The Danish Embassy in Turkey. +90-(312)44661 41. E-Mail: istghl@um.dk
Excursions:
You can always get information about excursions and interesting things to do at the Alt om Alanya café at the Dolphin Hotel.  You can also see more on either www.dolphinfamily.dk or www.altomalanya.dk – you can find both sites on Facebook.
Faith
About 98 % are Muslims. In general the Turks have a relaxed attitude to religion, and since Atatürk's reforms in the 1920'ies and 1930'ies state and religion have been separate.
Football:
Alanyaspor is the pride of Alanya. The club plays at the relatively new stadium in Oba with room for more than 10,000 spectators. The Turks are very passionate about football and even though Istanbul is far away from Alanya, many of the locals have their favourite club there.  Among others Fenerbache Galatasaray and Besiktas.
Gourmet:
Have a wonderful sushi meal at Crazy Sushi, try the international cuisines at Dinner in Oba, Vintage at Damlatas, Stay Restaurant or Emerald Garden in Oba or a delicious steak at Le Grill – the options are many.  But remember also to visit the many local Turkish restaurants. There is good reason for this as the Turkish cuisine has been voted as one of the best in the world.
Hospitals:
There are 3 hospitals in the town. Most foreign visitors use the private hospital, Anadolu Hospital, +90 242 522 62 62 or the Baskent University hospital. Both hospitals always have English/Scandinavian speaking employees as well as very competent and helpful staff. Always remember your travel insurance papers/cards as well as your passport if you have to go to the hospital. You can also register your apartment at the hospital so that any ambulance can easily and quickly find where you are staying.
Inhabitants:
According to the latest population figures from 31.12.2013, there are 276,277 people living in Alanya. The total population of Turkey is: 76,667,864 according to the latest statistics.
Interesting things to do:
Read more at www.altomalanya.dk under the menu "alanya/udflugter og oplevelser". Try a boat trip and see the sunset from the Castle!
Insurance:
It is important to take out travel insurance. Ordinary national health insurance does not cover Turkey so it could be expensive if an accident or illness should occur.  Remember to take out insurance with worldwide coverage as Turkey is not a member of the EU.
Internet:
You will now find Internet connections at all hotels, restaurants and complexes. If you're looking for a wireless connection, the café in the middle of the Alanyum shopping centre can be recommended.
Languages:
Turkish. Many Turks speak English and German. In Turkey you can go a long way with a smile and good humour.
Markets:
Every day you can find a market in and around Alanya.  See the list of markets under "info-om-byen" at www.altomalanya.dk.
Mayor:
Adem Murat Yucel from MHP (The Nationalist Movement Party) became the new mayor for the newly merged municipality of Alanya after the local election on 30 March 2014.  His party won 38.6 % of the votes, thus beating the previous mayor of Alanya, Hasan Sipahioglu from AKP (Erdogan's party).
Other information:
It is forbidden to take historical and archaeological finds out of Turkey.
Pharmacy:
Pharmacy is called "Eczane" in Turkish and can be found all over the town. Pharmacies that have a doctor on-site are called "eczane+".
They are normally open from 9 a.m. to 8 p.m., but you can always find a pharmacy with 24 hour opening times. The prices for non-prescription medicines are substantially lower than in European countries and many people save a great deal when buying painkillers, Viagra and birth control pills here.
Post Office:
The Post Office in Alanya is called PTT and is yellow. PTT is situated, among other places, half-way along the Atatürk Street, on the main street in Oba and on the market square in Tosmur. Here you can send letters, buy postage stamps and also change cash at a good rate of exchange.
Price Level:
1½ l of still water costs between 50 and 80 cents, a cup of coffee 1 -1.25 Euros. A Big Mac menu costs around 4 Euros. You can get good deals when buying gold, leather goods, carpets and also clothes.  Be aware that many of the products are copy items.
Season:
You can visit Alanya all year round. But the actual main season is from May to November.
Smoking:
Smoking indoors in restaurants and in public places has been banned since 2009,  It is still permitted to smoke outdoors at cafés and bars. If you are caught smoking where it is forbidden, it will cost you about 30 Euros.
Snakes and Insects
The climate in Alanya is different and therefore there are also different animals, among others snakes and scorpions. Fortunately it is extremely rare that you hear of deaths in connection with bites from these. There are approximately 50 snake species in Turkey of which 9 are characterised as dangerous. In the Alanya area there are only 3 species which are dangerous, but not lethal if you get treatment quickly. These snakes are called: Kafkas Engeregi, Viper Erivanensis and Côl Kobrasi.
The two types of scorpions of which you need to be particularly careful are Kara Akrep (big and black) and Maurus Palmatus.
No matter what kind of bite you are exposed to, you should phone for an ambulance and be taken to Devlet Hospital which is said to be the only one with the antidote to various bites. Devlet is situated behind the 35 meter road where the 25 meter road starts and the three storey lamp store.
Taxi:
In Turkish "Taksi" – there are many of them and the vast majority charge by taximeter.  But it may well be a good idea to try to agree on a fixed price before the trip begins.
It can also be a good idea to hail a taxi if you want to take a trip up to the Castle or to the DimCay. Many of them are good "guides" and with these you can always arrange a fixed price.
Tipping:
It is good practice to give around 10% in tips.
Traffic:
The speed limits are 50 km/h in urban areas, 90 km/h on main roads and 130 km/h on motorways.  Seat belts must be worn and the alcohol level must not exceed 0.5 (in case of an accident the insurance only covers if the alcohol level is 0.  Road signs correspond to the European standards. Keep a close eye on the other road users. They may overtake on the inside as well as the outside. It is a good idea to drive carefully and calmly. And most importantly: rent a car with fully comprehensive insurance from a reputable car rental company whose credentials are in order and where you can get help in case of an accident.  For example, Alanya Eurodan in Tosmur.
Transfer:
If you want to avoid a 2½ hour long bus ride from Antalya to Alanya or an expensive taxi travelling to and from the airport, a transfer is a very good alternative. You can be driven in a car or minibus. With one of the most reputable companies the price is 15 Euros from Antalya to Gazipasa and 10 Euros from Gazipasa to Alanya. Read more at www.selected.as.
Travel Tips:
Don't miss out on a Turkish Bath, a proper Turkish meal or the beautiful view from the Castle.
Well-known for:
Well-known for the Cleopatra Beach, the old castle fortress, beautiful scenery and a vibrant city life.