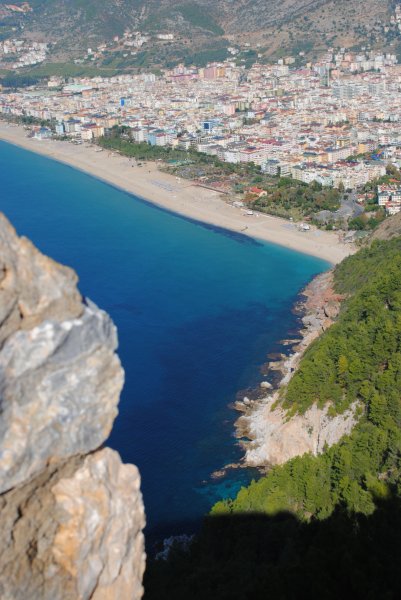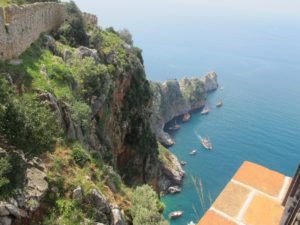 High above the rest of the city is the old castle. It is located approximately 250 metres above sea level and so the views from there are breathtaking.
It is difficult to confirm the exact foundation date of the castle but contributions from the Romans, Byzantines and Seljuks are there to be seen. However the biggest influence on the size and shape of the castle can be ascribed to the Seljuk Sultan Alaaddin Keykubat.
A 6 km town wall with 140 watch towers winds around the castle. It made it almost impossible for would-be attackers to go undiscovered. On the way up the winding and sometimes very steep road you will find small cafes and cosy restaurants.
Near the sultan palace you can visit a church/mosque which is a very important relic of the Christian and Islamic heritage of the town.
You can also visit the area of the castle where many prisoners from the castle's dungeons met their fate. When the dungeons became overcrowded, the prisoners who had been there the longest were packed together on a little platform at the edge of the castle. One by one the prisoners pushed each other over the edge until only one was left. He then got three shots at throwing a stone over the edge and into the sea. If he failed he too was pushed over the edge with certain death as a result!
The road to the castle is very narrow and busy and therefore care should be taken when walking.
In this area you live with Alanya's largest attraction, the Castle, as your neighbour. At the same time you have fantastic views of the city, the mountains and the beaches from your own balcony. You will not find better views anywhere else!
The district is very peaceful and quiet as there is minimum traffic and it is well above the rest of the town. Alanya Castle divides the town into a Western and Eastern part and so this district is effectively the centre of town. This means that although you live up on the hill everything is still within easy reach. You can either take the bus or use some of the many stairways that are built into the hillside. Thus you come directly to the shops, city life and other activities.
However, if you are walking-impaired, you should think carefully before choosing this district as there are many level changes and lots of steps.