In Turkey the cuisine of the Mediterranean and the middle east collides, and thus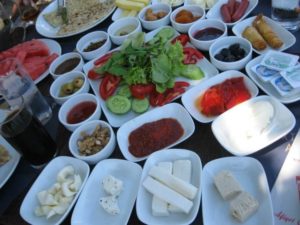 they both have an influence on the cuisine of Turkey, which is rumored to be on of the best in the world.
The menus consist of much more than just kebabs, which you will find out just looking at their menus, or if you try and order 'meze', which is a collection of traditional Turkish entrées, it will seem a bit like the Spanish tapas, being a lot of small different dishes, where these are the traditional ones from Turkey.
Meze
A lot of tiny bowls are placed in the middle of the table, some of these could be black olives, filled aubergine, puff pastry with spinach and feta, yogurt dressing and a lot of other different traditional entrées. With these entrées you eat lavas – which is a airy bread with sesame seeds.
Filled aubergines is just one of many variants which go under the category dolma In Turkey. Dolma is basically filled vegetables, and come and all shapes and sizes, you can find filled tomatoes, cabbages, sweet pepper. They are typicly filled with seasoned rice, ribs, cinnamon, pine nuts and the list goes on.
We recommend visiting one of Alanya's real Turkish restaurants like Sofra or Mini Mutfak etc. – These are both great experiences and somewhat cheap.
Tough place to be a vegetarian
It's hard being a vegetarian in Turkey. For the most part their main dishes consist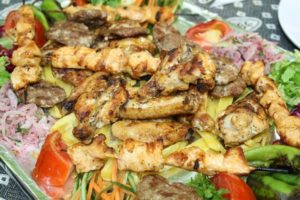 of beef or fish. The most common meat used in Turkey are beef, lamb, sheep and chicken. The dishes are prepared with many different spices to vary the taste, some of these spices are paprika, garlic, dill, parsley and cumin. One of the classis dishes are kôfte, which is meatballs – often made from minced lamb meat. Another classic dish is bôrek, a pie with cheese-, meat- or vegetable-filling.
Fish
If you wish to eat fish and at the same time want to experience the locals, a visit to the market halls is to be recommended, its located near the Anadolu Hospital. Here you get to choose the specific fish you with to eat, it will then get served with salad and bread – Some people get addicted to this, thanks to the great food and special local feeling you get there.
Heaven for sweet tooths
Desserts and sweets are both a very central part of the Turkish cuisine. Their specialty are very very sweet cakes that consist of puff pastry and syrup, apart from being able to buy these at the confectionary they are commonly a part of the breakfasts at most hotels.
The Turkish sweets that are named lokum and also known as Turkish Delight, are a jellyfish experience and also very sweet, these come in many different forms, one of these taste a bit of pistachio.
The quick one – Kebab
You can't forget the kebab. Kebab means grilled meat. The Döner kebab that rotate on a vertical spear at a grill, can be found everywhere around the city, you can buy different versions of döner kebab for around 1 euro.
Other fastfood products that are worth mentioning could be the Turkish pizza – 'pide'. We recommend trying this at Hayyam family restaurant, it's located on a street off of 25 meter road, they have a delicious kebab and pizza menu, with very fair pricing.
The tea
Tea is the national beverage in Turkey. Black tea with a lot of sugar is consumed everywhere in the small teaglasses. If you visit a private residence in Turkey, you will always be offered tea. The caffeine free apple tea all the tourists are offered one time or another on their vacation, are mainly for the tourists, the locals don't drink it. Coffey is less popular, but they do drink it, and often with sugar in it.
Alcohol
Of all the alcohol the 'raki' is the preferred among the turks, and it can be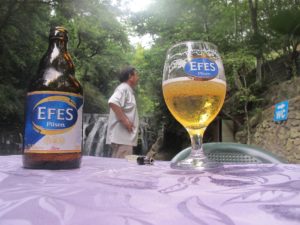 consumed at any meal during the day. The beer culture in Turkey has been grooving the latest years, among the most common ones is Efes Pilsen, which has been very popular among the Scandinavian tourists. If you wish to drink wine, we would recommend the brand 'angora', it's often on sale at Migros and Metro. When  on sale one bottle costs around 11 lira, and the normal price is around 18 lira.
Trial and error
We would recommend all tourists a part from trying the international cuisine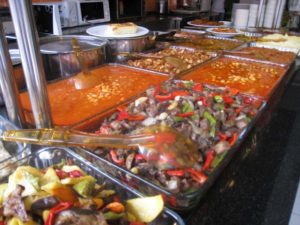 restaurants around Alanya, that you also visit the smaller streets so you get to experience the Turkish cuisine. This is a great experience that everyone should grant themselves. It will also help you keep the vacation budget at a sensible level. Don't miss out on the desserts, or the fast foods either, it's of great quality and worth a try.
In essence try some different restaurants and different dishes, you might get surprised.